The Story

Story-telling, like reading, is a wonderful experience. It not only improves a child's comprehensive skills but also it develops his or her ability to communicate, increases his or her vocabulary and above all, encourages the use of the imagination; a fertile garden where all seeds will blossom.
The Priscilla stories are filled with adventures, rich in color and texture where images are conveyed by the written words of writers from countries as diverse as Australia and Mexico, Japan and Argentina. Each story transports us to the enchanted world of childhood where lovely and exciting tales are told about endearing characters such as Nimbo the cloud, Panchita, the baby orca and Leonardo, the loving tuxedo cat, characters with whom all children can share their mischief and universal experiences.
When ideas become words and the child ventures into the amazing realm of fiction, not only does he or she stimulate his or her intellectual possibilities, but also these new-found friends will spark an empathy that will serve to help them improve their social integration skills.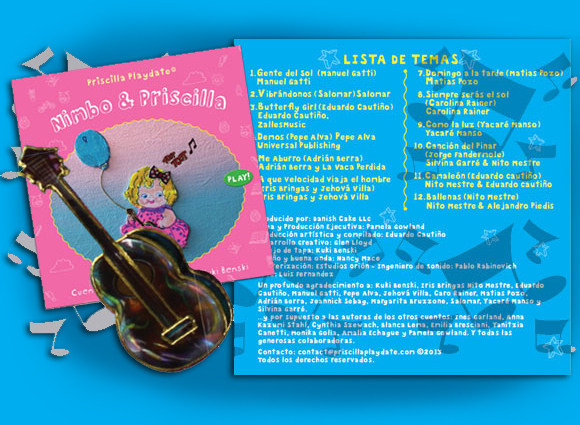 Music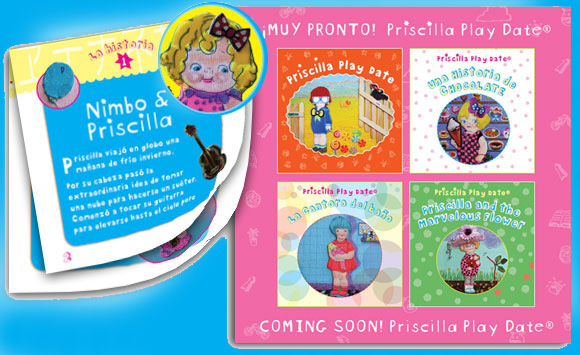 Be your own musical orchestra conductor, a producer, composer or performer. This app will teach you about different musical rhythms and will enable you to experience what it feels like to sing and play with famous artists and musicians.
Music at the tip of your fingers … and ears!
Re-mix the Priscilla songs or reinvent your own, write your own lyrics and hear the sound of your own voice. Then, just send it to your grandma for her birthday …because music has the wonderful power of bringing people closer together. It promotes healthy coexistence and communication skills and, by sharing their songs and music, children will increase their emotional security and confidence.
As is the case with reading and story-telling, music also encourages literacy, it improves the power of concentration and makes learning Math easier. Yes, music is pure mathematics! It also makes learning other languages easier as it enhances memory whilst exercising a child's body movements and coordination.
Have fun with your very own audio console that creates an ambience; experiment with instruments, unique sounds and sound effects that will be available for your own original music productions...
App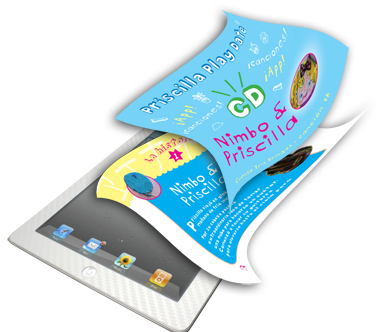 This app as an educational tool:
Children of today find all things interactive … attractive.
It allows them to play and have fun while they learn.
Our technology supersedes the average technology used for similar products as it enables the user to build on his/her creative abilities to the point of a finished product. In the process, these children will not only have fun playing with Priscilla, but will take their artistic expression to a new intuitive level; to a place where they may discover a passion for writing, for art or music, and where they will reward themselves with a tangible, not virtual, result.
The interactive learning experience in itself contributes to self realization and creativity, goals among the most important in preparing for a positive and healthy future.
But above all, our app facilitates the understanding of a new concept, that of "transformation" which develops multiple and flexible perspectives.
Free Downloads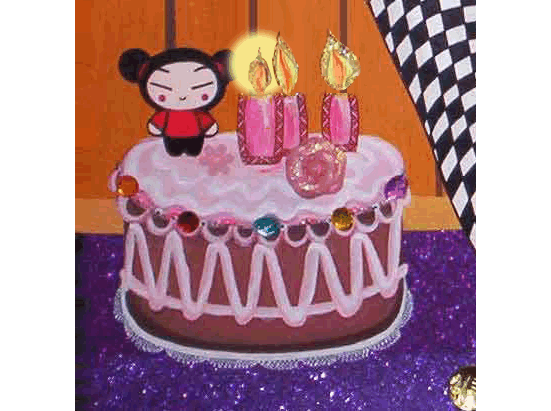 Free Downloads: A fun site for parents and children that features family themes. Coming soon, free interactive digital story download with audio (now available in Spanish only), digital coloring and dress up action with free music download.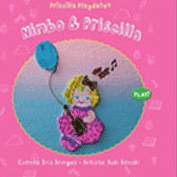 DOWNLOAD The Story ¨NIMBO Y PRISCILLA¨( PDF)